Attorneys You Can Trust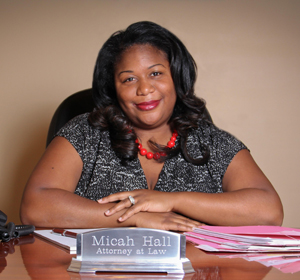 Micah D. Hall acquired her law degree from Washington University School of Law in 2003. Micah earned her Bachelor of Arts from the University of Missouri-Kansas City. She is currently admitted to practice law in Missouri and Illinois.
Upon graduation from law school, Micah served as an Assistant Attorney General for the State of Missouri in the Financial Services Division. Subsequently, she worked as a Trust Administrator with the Edward Jones Trust Company where she managed trust and probate transactions on hundreds of accounts. Afterward, Micah was an associate at a mid-sized St. Louis law firm representing large corporate clients in general litigation.
Micah is very active in the community and past President of the Mound City Bar Association, which is the oldest black bar association west of the Mississippi River. She was selected as a member of the Missouri Bar's Leadership Academy class of 2008-2009 and the Illinois Bar Leadership Academy for the inaugural class of 2010-2011. She was selected as an American Bar Association Young Lawyers Division Scholar for the 2010-2011 bar year and in 2013 was a recipient of the Washington University School of Law International Women's Day Award. In 2014, Micah was awarded the 40 Under 40 Award and the distinguished Legal Legend Award by the National Bar Association.
The Hall Law Firm, LLC is certified as a Minority Business Enterprise (MBE).